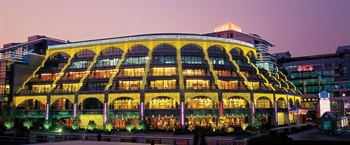 The Hangzhou Wushan Minglou Hotel (Hangzhou Wushan Minglou Dajiudian) is located on Hefang Street close by the scenic West Lake, south of several shopping malls, north of Wushan Square and the ancient Qinghefang Street and east of Nanshan Road.
This Hangzhou hotel hosts 51 rooms including deluxe, Wushan Mountain-view, business and stree-view types, all equipped with LCD TVs, internet access, safes and minibars.
Business guests will find the business center helpful. For dining, there are banquet halls, Chinese and Western restaurants and over 60 private dining rooms, offering Cantonese, Jiaodong and Hangzhou cuisines. In addition, seafood and rare dishes including abalone, shark's fin and bird's nest are also available.